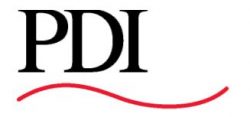 Win the Race for Space & Power
The drive for more power in less space at the server cabinet level continues. PDI's RPP complements this change by offering the most options available in this free-standing 2′ x 2′ distribution or server-sized enclosures. PDI has the most comprehensive line up of RPPs in the data center business. Although your PDUs may still be able to handle the power demands of your growing facility, they may not have room for expansion. PDI's Remote Power Panel (RPP) helps you win "the race for space and power" by providing the added pole "space" in a variety of "power" set ups to meet your distribution needs in a small footprint.
Our RPPs allow you to effectively use all of your existing capacity before investing in additional distribution. The RPP can pack in dual feeds, up to 168 breakers, and Branch Circuit Monitoring with local monitoring in the 2′ x 2′ floor tile. The RPP is fed by any standard subfeed circuit breaker of a PDU or 208V distribution board. PDI also offers the choice of Mission Critical Dual Source RPP – 225 or 400 amp modular rack mount unit to fit any 19″ cabinet, the server line rack RPP in either 208V or new 480 V, and the server line RPP from 15-150 kVA with a custom transformer.

Intelligent Monitoring
Add a WaveStar® monitor to see down to the branch circuit level on all panel boards and increase your . The system increases the visibility of the actual loads on the raised floor which gives the
data center manager a better decision-making tool that covers system-wide performance, individual output breakers power levels, and branch circuit monitoring (current and voltage).  (Power Distribution Intelligence Quotient) gives you the ability to make better decisions based upon real time reporting of load /capacity data. By adding the WaveStar® monitor to your RPP, you can view linked devices and keep better control of the data center floor loads.
Simplified Expansion with Customized Options
Reduces the length of cable runs between your PDU and the individual loads
Optimizes usable floor space
Simplifies server consolidation plans
Meets the growth demands of dual cord equipment
Retrofits to any existing distribution system
Minimizes your investment risk today by allowing for incremental expansion of your future facility
Unobstructed wiring access for ease of installation