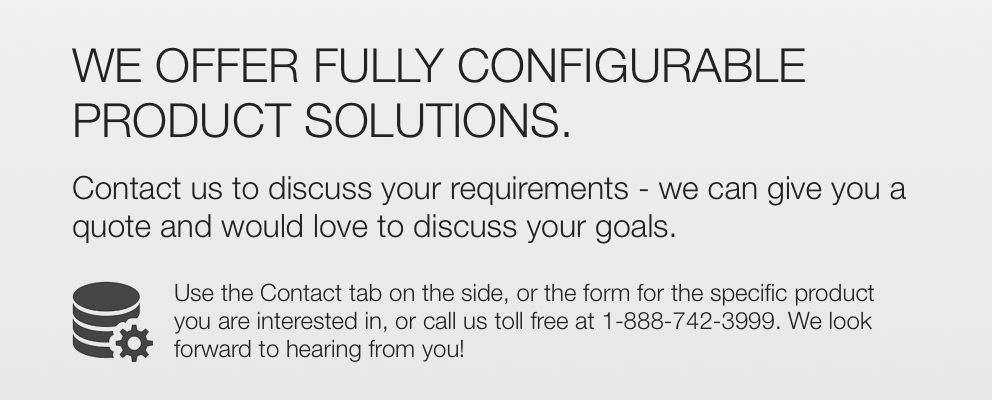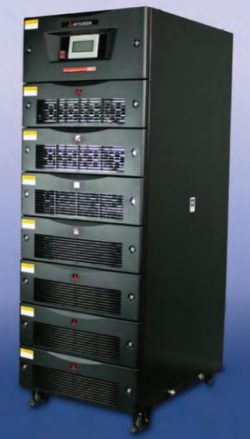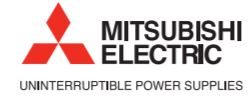 The DiamondPlus™ 1100A and 1100B UPS Series are the newest generation UPS systems offered by Mitsubishi Electric. With efficiencies over 93%, a high 0.9 output power factor, and lightweight, compact design, the DiamondPlus™ is both green and smart. It gives energy conscious users an alternative UPS solution to meet their needs. Both the 1100A (10-50 kVA) and the 1100B (50-80 kVA) configurations are upgradeable in 10 kVA increments.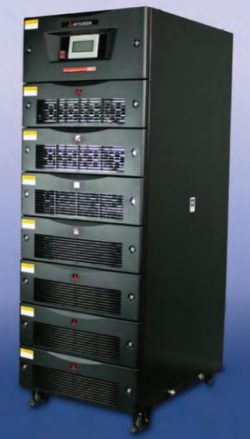 Standard Features
Fully-digital IGBT converter and inverter
Hot swappable modules
Pulse Width Modulation (PWM) controls
On-line upgradable n Front access UPS
Small footprint and lightweight n UL 1778 listed
Operating Environment
Audible Noise: 58 dB @ 1 Meter
Temperature: 0 -40º C
Relative Humidity: 5 -95% (Non-condensing)
Altitude: 0 -5,000 ft.
AC Output
Output Power: 208V/120V, 4W, 60 Hz
Power Factor: 0.9
Voltage Regulation: +/-1% Balanced +/-2% Unbalanced loads
Frequency Regulation: 60 Hz +/-0.01%
Step Load: (100%) +/- 3% variation, recovery less than one cycle
Voltage THD: 2% Maximum @ 100% Linear Load 5% @ Nonlinear Load
Overload: 105 -125% -60 sec 126 -150% -30 sec
EMI Compatibility: FCC Article 47, Part 15 Subpart B, Class A
AC Input
Input Power: 208V/120V, 3P, 4W, 60 Hz (Other voltages available with external transformers)
Voltage Range: +15%, -30%
Reflected Current Harmonic Distortion (THD): 4% @ 100% load 7% @ 50% load (Typical)
Power Factor: 0.98 at 50% and 100% load
Surge Withstand: Meets IEEE 587, ANS/IEEE 62.41, Category B