7×24 Standby Power Systems for Mission-Critical Facilities
No matter how many "9s" of reliability you need, PowerCommand® power systems give you 24/7 assurance of uninterrupted power.
Our Promise
One word describes what you require from your on-site power system: reliability. Reliability is a result of expertise in system design — applying advanced technologies across the entire power system to efficiently support your expanding IT infrastructure, communications and critical-needs electronics today and in the future. Reliability comes from our local distributors and factory support team working together 24/7 on your behalf. Cummins Power Generation Inc. is uniquely positioned to deliver the reliability you demand for your mission-critical facility.
System Design Expertise
Cummins Power Generation started the digital revolution in power systems over 10 years ago with the first distributed logic power system designs.  Rather than the master/slave configurations still provided by some suppliers with more traditional designs, PowerCommand systems allow each major system component to operate autonomously in the event of system component failures, so a single failure is unlikely to cause a larger system failure. Paralleling systems can be as simple as a generator and transfer switch — when you're working with PowerCommand. Distributed logic and design simplicity mean reliability and serviceability in the long run for your facilities, and that leads to peace of mind for you.
Advanced technology
In an industry that depends on advanced technologies for almost every facet of its business, it is critical to apply the same technologies to its power systems.  Cummins Power Generation always carefully applies the latest technologies and utilizes NFPA110-style prototype testing to assure the highest reliability in system design. Prototype-tested, dedicated-purpose, microprocessor-based controls allow comprehensive application of failure-mode-effects analysis. This also provides consistency in design that results in reliability, while providing the capability and flexibility needed for unique facilities.
Dedicated Support Team
PowerCommand systems are supported by one of the largest service and support organizations in the world — over 5,000 sales and service centers in 160 countries. Cummins Power Generation distributors deliver single-source warranty, planned maintenance and round-the-clock emergency service with technicians continuously trained and certified in paralleling power system design. Our planned maintenance program, staffed by factory-certified technicians, not only increases your system reliability and maintains your factory warranty coverage; it also gives you the flexibility to tailor the program to your specific needs. You can count on Cummins Power Generation for expert local service, planned maintenance, troubleshooting, quality parts and comprehensive power systems support.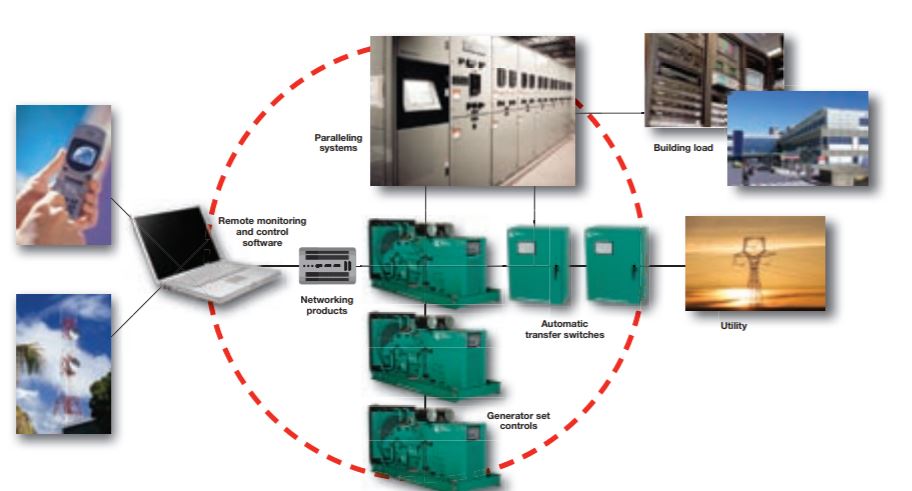 When you choose PowerCommand power systems, you get a thoroughly tested, proven design — not a custom design with custom problems.
Seamless On-Site Power
Every component of the power system we design for you — generator sets, digital paralleling equipment, automatic transfer switches and monitoring systems — is designed by Cummins Power Generation to work together seamlessly.  Advanced technologies — carefully applied —consistently supported. That's the Power of One™.
Reliability and Responsiveness
That's what you can expect from Cummins Power Generation. Our solution to your mission-critical application is brought to you by people you can trust: the people of Cummins Power Generation.  Put our energy to work for you.