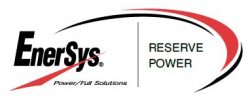 The DataSafe™ DX range of flooded lead calcium flat plate batteries has been designed for use in UPS applications, more specifically large data centers, which demand the highest levels of security and reliability. The proven reliability of DataSafe DX as a leading high rate performance battery is backed by 20 + years of experience in the marketplace.
The DataSafe DX is an economical multi-cell calcium flat plate battery. Multi-cell
construction requires fewer units, resulting in lower installation cost. While optimizing the space available in the battery room, it delivers superior performance making the DataSafe DX a superlative cost-effective battery.
The DataSafe DX features EnerSys's time tested Slide-Lock™ post seal design, bolted lead plated copper connectors, optimal grid design, heavy duty plate lug and strap, and dual lug design, which make this battery ideal for high rate applications.  All battery systems are rated at 100% capacity at initial discharge.
The DataSafe DX has a 20 year life expectancy in float service at 77°F (25°C)
ambient temperature.
Features and Benefits
Capacity range 0.626 – 5.446 kW per cell
Suitable for Uninteruppted Power Supply (UPS) and switchgear applications
Multi-cell constructions
Cover made from flame retardant PVC
Container made from Styrene Acrylonitrile (SAN); optional flame retardant Polycarbonate (PC) Construction
Plate thickness: Positive 0.20 in (5.0 mm); Negative 0.12 in (3.1 mm)
Plate suspension type: Positive Bridge hung; Negative Bottom supported
Cover – Flame retardant PVC, UL94-VO/L.O.I. 28%
Container – SAN or optional flame retardant PC
Electrolyte over plates 2.88 in. (73.1mm)
Sediment space 1.04 in. (26.4 mm)
Long life Slide-Lock™ post seal design
Specific gravity 1.215 standard; 1.250 (B) available upon request
Installation and Operation
Float voltage settings (1.215) -Acceptable min/max 2.17/2.26 Vpc recommended average – 2.21 v/c @ 77˚F (25˚C); Float voltage settings (1.250): Acceptable min/max 2.21/2.30 Vpc recommended average = 2.25 v/c @ 77˚F (25˚C)
Vent type – Flame Arrestor, Fused Alumina
Bolt Connectors – 316 Stainless Steel, English measure, Hex-head
Intercell connectors – Tin plated copper, optional lead plated copper
Standards
The management systems governing the manufacture of this product are ISO
9001:2008 and ISO 14001:2004 certified
Available testing to IEEE 450 standards as well as customer specific applications