EnerSys 12HX FT Battery Series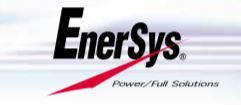 The DataSafe®12HX680F-FR Front Terminal Battery
Contact Us Today! (888)742-3999
EnerSys®, one of the world's largest and most innovative industrial battery manufacturers, is proud to introduce the new front terminal DataSafe® 12HX680F-FR to our line of Uninterruptable Power Supply (UPS) battery solutions. The DataSafe 12HX680F-FR battery offers the convenience and lower maintenance costs of a front terminal battery design but still delivers the power required for demanding high rate UPS applications. This latest offering now expands the UPS Valve Regulated Lead Acid (VRLA) front terminal offering to include both 12V (680 WPC) and 16V (550, 800 and 925 WPC) to cover a wide range of both KVA's and run times to meet all of your UPS needs.
Additional features of the DataSafe® 12HX680F-FR Front Terminal Battery:
Smaller footprint per kilowatt.
Simplifies installation.
Improves reliability.
Complete front access.
Eliminates wasted headspace found in typical 12V top terminated designs.
Easy and safer front terminal access simplifies maintenance.
No costly slide out trays required to obtain terminal access.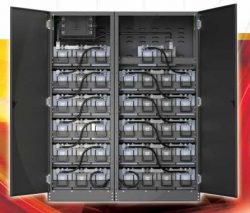 12HX FT Battery Cabinet Specifications
DataSafe® 12HX-FT Battery Cabinet Systems
DataSafe® 12HX680F-FR Front Terminal Valve Regulated Lead Acid (VRLA) battery has been designed to offer a superior solution for Uninterruptible Power Supply (UPS) markets.  The HX 12 Volt front terminal battery cabinet offering makes the DataSafe 12HX680F-FR battery the ideal choice to optimize the footprint of your UPS installation. The new "slim line" version of the cabinet saves space compared to competitive offerings and will optimize the footprint. The "wide body" cabinet, which matches competitive offerings, is also available. These new cabinet systems are CUL (Canadian UL) and UL 1778 listed and certified to IBC (International Building Code) 2012 (.87g) as a standard feature, allowing installation in the most demanding and critical applications. DataSafe HX batteries complete the high-quality system by offering a superior performance UPS battery built to the highest standards in the industry.
Additional features of DataSafe® 12HX-FT Battery Cabinet Systems:
UL and CUL (Canadian UL) listed 1778
International Building Code 2012 Certified .87g CAPE stamped
Slim Line Series offers most space savings over competitors
Space efficient design reduces footprint requirements
Easily upgradeable to include battery monitoring systems
Multiple cabinet colors available to match UPS equipment
Several knockout locations to accommodate specific site wiring needs
Front Terminal access
Lower maintenance costs
Breaker handle through the door for additional safety