EnerSys DataSafe 16V HX-FT Batteries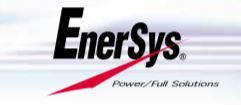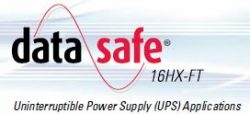 Contact Us Today! (888)742-3999
We only supply and use the best in data center batteries!
Features & Benefits: 
Smaller footprint per kilowatt than top terminated 12V batteries-more than 20% space savings for a full 15 minute run time for 750kVA UPS systems.
Eliminates wasted head-space found in typical 12V top terminated designs.
Complete front access simplifies installation.
East terminal access simplifies maintenance-no costly slide out trays required.
Design features and proven Valv Regulated Lead Acid (VRLA) manufacturing technology helps to improve reliability.
925 WPC design reduces number of parallel strings required.
Up to 50% fewer connections means less maintenance.
Scales easily to large capacity UPS systems.
100% initial battery capacity.
Construction: 
Insulating covers included with voltmeter probe access to enhance safety and simplify maintenance routines.
Integrated handle support doubles as an automatic spacer between units to enhance airflow and thermal management.
Nord-Lock washer provides a secure front terminal M8 connection over the life of the battery.
Solid tin-plated copper busbars reduce connection resistance to enhance power delivery from the battery systems
Polypropylene strap handle simplifies installation, removal and replacement.
Standards: 
UL Listed 1989-UL File MH12544
Manufactured to EnerSys standards in ISO 9001 registered production facilities worldwide.
Approved for shipping as non-hazardous, non-spillable per IARA Special Provision A67 and 49CFR.
Flame retardant case and cover to meet UL-94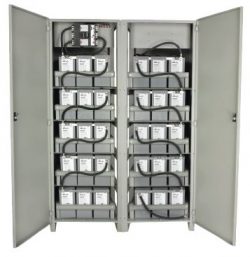 Features & Benefits
Insulating covers with voltmeter probe access enhance safety and simplify maintenance
Integrated handle support doubles as an automatic spacer between units to enhance airflow and thermal management
Nord-Lock® Washer provides a secure terminal connection over the life of the battery
Solid tin-plated copper busbars reduce connection resistance to enhance power delivery from the battery system
Dual-tab washer enables quick connection to battery monitoring systems
Nylon strap handle simplifies installation, removal and replacement
16Volt Front Terminal Battery Systems have Energy Density Advantage over 12Volt Battery Systems
Lower Maintenance Costs
Front Terminal Access
Less Connections Per 480 Volts
16Volt = 30 Connections
12Volt = 40 Connections
16HX-FT battery
Constant Power Discharge Rates – 480V SystemkWat 25°C (77°F) to 1.67 VPC
UL and cUL (Canadian UL) listed
International Building Code 2006 Certified
California Building Code 2007 Certified
California Office of Statewide Health
Planning and Development Certified
(OSHPD)